A bit of a spring clean on the outside of your home is a great way to spend a sunny Vancouver weekend. However, when it comes to pressure washing, there are some distinct differences between DIY methods and professional techniques. Both have their advantages but here's what to be aware of when using a pressure washer around your home.
Take Caution If Pressure Washing Your Home's Walls Or Siding
While using a pressure washer is a great way to clear away dirt and algae from walls and sidings, this should be avoided if you don't know everything there is to know about the machine, the various wand tips, and chemicals that can be used. A pressure washer produces a forceful, high powered stream of water, that can blast paint off walls, shred wood siding and deck boards, break window seals and even create cracks in walls. This causes what we call water ingress which could soak into the wall cavities and spread through insulation and even wiring. Pressure washers should be set on their lowest settings and increased to the point at which they are effective, without overdoing it.
Protect Yourself
Knowing the damage pressure washing can do to buildings, it must come as no surprise that they can do a lot of damage to people too. The water can shoot out with extreme force, just as one Reddit user found out when he instinctively removed a bug from his leg with the pressure washer he was using.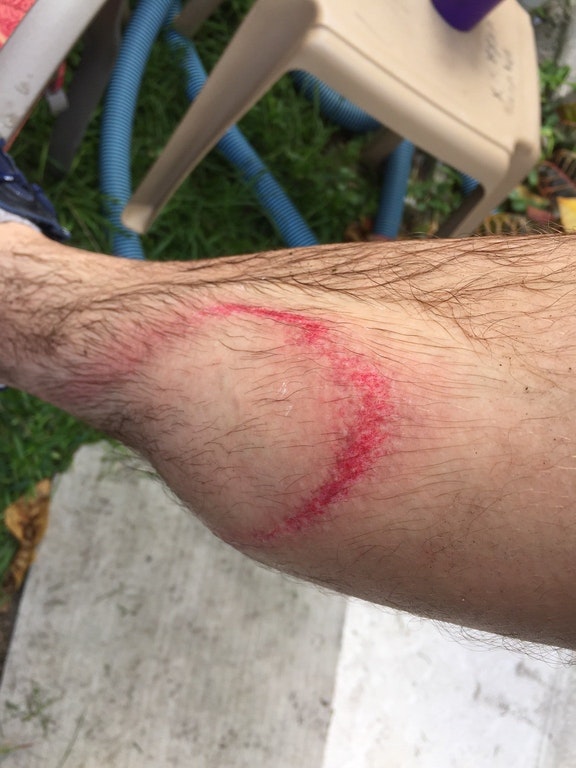 Pressure washers can tear open skin very easily and cause some really severe injuries. It's vital anyone using a pressure washing is aware of just how dangerous they can be.
How We Ensure Safety When Pressure Washing
With decades of experience under our belt, all of our IMAGINE team have several techniques they use for different cleaning purposes. Generally we will use lower pressure equipment with special detergent to produce a high quality finish, damage free.
Our staff are fully trained in using all of our equipment so know exactly how to use high pressure, when needed.
Customers can feel safe knowing that all of our Vancouver pressure washing team are not only fully trained, but also fully insured. When hiring anybody to work on your home, it is important to check they are insured, so that in the unlikely case something were to go wrong, you wouldn't be held liable.
Some Final Pressure Washing Safety Tips
Never use a pressure washer on your roof
Never use a pressure washer on your awning
Avoid using the highest pressure setting
Keep children and pets away while using a pressure washer
Ensure that there is water drainage where you plan to clean (the water needs somewhere to go)
Provided you are fully aware of how to use your pressure washer, it can be a great tool to do some cleaning yourself. For more complex jobs, or to ensure the safety of your home and self, you can schedule in an visit from our professional Vancouver pressure washing team. Contact us today or request a free quote.