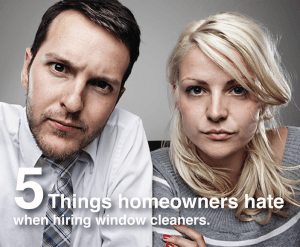 What to avoid when you hire a window cleaner.
Hiring a cleaning company is not an easy task. Most people might be surprised to learn there is a relatively small barrier to entry in the industry. Purchase some basic tools, print some business cards and you're in business. Add to that, the lack of accredited, professional training and you're sure to expect a variety of approaches, both in customer service and the fulfilment of the scope of work. Use these warning signs as a way to weed out cleaners who may not live up to your standards.
1. No references
The first thing you'll want to do is look to local resources like the Better Business Bureau (BBB). Other sites like yelp and homestars are also great places to get a feel for a company. Ask the contractor to provide a list of references from projects of similar scope. Any reputable contractor should have a deep list of satisfied clients for you to connect with.
2. Poor communicationCommunication comes in many forms, and should be your first indicator of a worthy cleaner. Do they answer the phone with their company name? This gives you insight into how they feel about their service and your business. Do they respond to emails and phone calls within 24-48 hours? What is the quality of their written communication? Are the quotes well written and easy to understand? Someone who values their business takes every opportunity to represent themselves positively to a potential client. Good communication will be prompt and detailed, not delayed and vague. If their communication is lacking this might be an indicator to move on.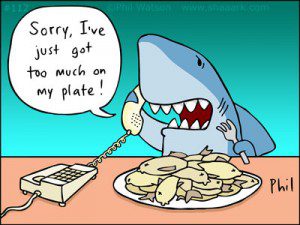 3. They work alone.
While some people love having "their guy" who comes regularly to clean their windows, the advantages of an "owner/operator" relationship can soon be outweighed by the disadvantages. The person who does all the cleaning is also the person who answers all the phone calls, does all the quotes, handles all the marketing, the office work, and deals with all the gear repairs. Imagine going to a restaurant and the person who seats you, is also the only waiter, bartender, chef, manager and dishwasher. It doesn't take much for this person to take on too much work and be spread thin. In our society, having to wait too long is an indicator of poor service and lack of respect for our business.
Whether it be the return of a phone call or email, or the scheduling of an appointment, when our attentions are so divided its very easy to let something slip. Which brings us to the important issue of site safety. A very real hazard of an owner/operator-style business is the inherent lack of safety checks. Working in teams allows a contractor to have more eyes on safety and quality of work.
4. No web presence
Reputable window cleaners have an online reputation, end of story. Window cleaners who do a lot of business, and do it well, have a presence on the web. They should have a website and reviews on sites like Google+, homestars and Yelp. Great companies usually have social media pages as well – these are all a sign that the business has been around for a while and works on maintaining their reputation through quality work and customer service.If you don't see a strong internet presence, they may be a new company. Though this isn't necessarily a bad sign in itself, it's hard to determine the quality of a brand-new contractor. It's best to hire someone who has a proven track record of success.
5. No insurance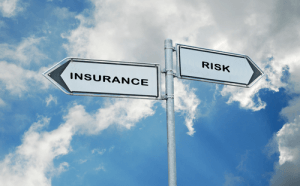 We all love a bargain, its what drives us to get a "friend" to work on our car. Many people are tempted by low rates and put themselves at great risk by hiring uninsured window cleaners. Consider that 42,000 Canadian workers are injured annually in falls, and that a ladder is one of the most used tools in a window cleaners kit. Reduce your exposure to this liability by requesting a copy of the cleaners insurance directly from the insurance company. Don't accept a copy, it might not be legitimate. Do not rely on your homeowners insurance. Your homeowner's insurance policy will not cover damage caused by a contractor. Why? You invited that contractor into your house, so the insurance company classifies the damage as intentional.
Here's a BC law that might surprise you. Let's say you hire a contractor to fix your roof. The contractor slips while on the job and is seriously injured. The contractor is not covered by WorkSafe BC insurance. Who is liable for the contractor's injuries? You. The homeowner.
Anyone working on your property for more than 48 hours must have insurance coverage with WorkSafe BC. For those not insured, it is the homeowner's responsibility to register their workers, pay their premiums, and provide a safe and healthy work environment. Most homeowners are completely unaware of this responsibility. But failure to follow these steps might find a homeowner liable and responsible for paying costs associated with a worker's injury or death.
Below is an excerpt from the WorkSafe BC website:
When you hire someone to work in your home to meet your personal or domestic needs, you are considered a residential employer. Whether you hire the worker on a full-time, part-time, or casual basis, you may need to register for WorkSafe BC insurance coverage if you hire:
Nannies, companions, or other personal caregivers
Domestic workers such as household cleaners
Construction or repair workers or contractors
Gardeners or landscapers
You do not need to register if you hire a person:
For an average of less than eight working hours per week
For a specific job to be completed in less than 24 working hours. In determining how long a job takes, it is the total person-hours for the job that is relevant. For example, if three workers work for nine hours each, WorkSafe BC considers that job to be for a period of 27 hours.
To care for children before and after school for an average of less than 15 hours per week
Through an agency registered with WorkSafe BC, where you pay the agency directly
Who is independently registered with WorkSafe BC