Winter has finally come to an end, but it's presence is still very much visible on sidewalks and walls across Vancouver. Pressure washing can help make it better outside by removing any grimey moss and algae build up as well as the remains of rotting leaves, leaf stains, gum, and garbage – all of which can be very off-putting to customers. But in Vancouver the real problem is algae, the stuff that grows on everything. This is where professionals can really help.
Sidewalk Pressure Washing
For years, we have been cleaning sidewalks across Vancouver for some of the city's best known restaurants and shops. You may well have seen our pressure washing teams and vans working Downtown, on the likes of Robson Street, Alberni Street, as well as on South Granville, and West 4th Ave.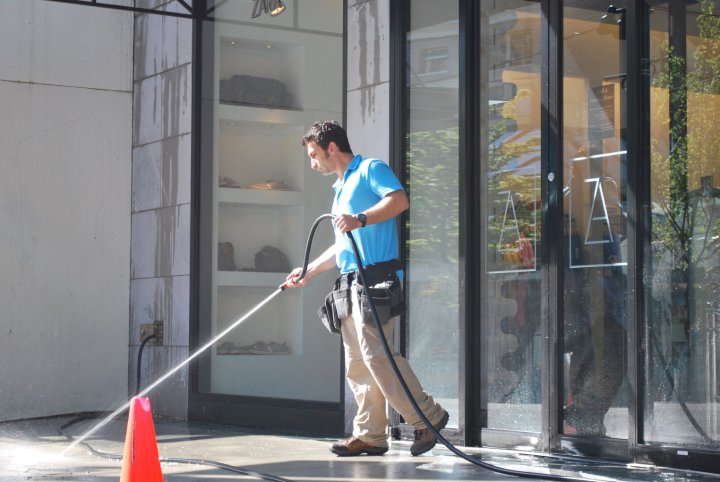 The appearance of the sidewalk outside of your business is not something many people think to check but once you see the difference a quick pressure washing visit makes, you'll never overlook dirty sidewalks again.
Scrub Down Walls
You can easily clean off some of the airborne dust that builds up on the exterior of your walls after winter with a simple hose rinse and maybe a light brushing. This is is a simple solution for small painted, or vinyl siding walls. For larger walls, or brick walls, pressure washing is a more efficient solution. Our team know the correct power and equipment needed to give walls a new lease of life.
For busy business owners, our team can discreetly and quickly get the work done outside of your core business hours, causing little to no disruption to your customers.
Give Patios A Gleaming Finish
If your business has a patio, it's best to get it gleaming before the summer sunshine gets Vancouver residents flocking to you. Patio pressure washing makes a huge impact on small or shaded spaces that don't receive a large amount of natural light. Much like how clean windows can brighten a room, clean floors can brighten an outdoor area.
Our pressure washing services are available to both business owners and residential property owners. So, if you're considering treating your business' patio to a pressure washing appointment, why not do the same for your home patio and driveway too?
To schedule in a pressure washing appointment at your home or business, call us at (888) 835-0008 or send our pressure washing team a message and they'll be in touch shortly to arrange an appointment.