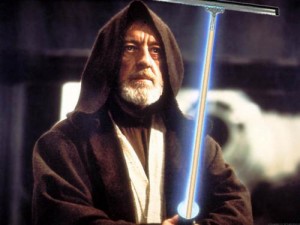 May the Force be with you.
This might be the first ever comparison between a lightsaber and a squeegee. But to achieve the all-desired perfect, streak free window, Imagine's staff perfect their squeegee skills through long hours of training not unlike a Jedi Master.
A window cleaners lightsaber…
Clearly, the best way to clean windows is with a squeegee. Invented in 1936 by Ettore Steccone, the design has remained basically unchanged and is a staple in any window cleaners kit. But don't let the simplicity of this tool fool you. As anyone who has used a squeegee at the local gas station can attest, the squeegee takes more than a little time to master.
The path to the Dark Side
You wouldn't wash your car by spraying it with a bottle and wiping with a rag. Likewise, your windows require the same care and consideration to get that all-desired, streak-free finish. So put away that paper towel and back away from the spray bottle, this is a job for a Jedi.
Save your weekend.
Weekends are a hot commodity in the summer, so why use one up cleaning your windows? Our rates are affordable, and our service is top-notch. We're Insured, backed by WCB, and have an A+ standing with the BBB. Check out our testimonials section to hear what our customers have to say about us.