Winter is here, and people are retreating inside until warm weather returns. At IMAGINE Services, we want to make your time indoors as safe and comfortable as possible, that's why we are offering two brand-new services – dryer vent cleaning and high dusting.
Have you noticed that as you unload the dryer, your clothes are still damp? Or when a ray of light shines through the window, there is extra dust in the air? We know spending time inside is excellent. Catching up with friends and loved ones in a cozy environment, gazing out of a clear window (thanks to our window cleaning services) at the beautiful Vancouver landscape while sipping some tea. It's lovely, but there are some things to consider when increasing your time spent inside.
Dryer Vent Cleaning Prevents Housefires
The weather prevents you from drying your clothes on the line outside, so you're more likely to use the dryer. Over time, lint gets stuck in the vents and builds up, blocking steam from escaping the drum. Your clothes will heat up, but won't dry, and the trapped moisture builds up in your laundry room leading to a possible mould situation. This is one of the signs that you'll need to have your dryer vent cleaned.
Failure to cleaning out your dryer vent can create potentially dangerous situations. In Vancouver, 18 fires a year are caused by lint build up in dryer vents. But now, prevention is as simple as contacting IMAGINE Services to perform a thorough cleaning of your dryer vents. As an added bonus, dryer vent cleaning can also bring your clothes dryer back to life, letting steam escape properly allows your clothes to dry up more efficiently.
High Dusting Is Often Overlooked
You've mopped and vacuumed. The counters are clean, and the cabinets are polished. But have you ever put in the effort to clean those hard-to-reach spaces? High up, around corners, on rafters or beams over 8 feet in the air?
If you haven't, then it's time to have those spots cleaned.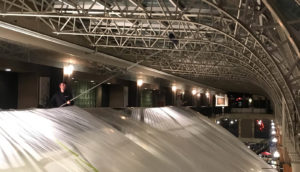 Dust is made up of dead skin cells, tiny hairs, animal dander, clothing fibres, pollen, pollution, dirt, grime, and more. If not cleaned regularly, the dust accumulates and festers. It becomes a breeding ground for microscopic life like bacteria and dust mites.In the winter we have our windows closed, and heat turned on too, which helps these dust communities cultivate.
At IMAGINE Services, we have the tools and techniques to clean even the hardest-to-reach areas. Rafters, beams, high ceilings are no match for us! We'll take care of any dust that has accumulated over the months or years, leaving you with a cleaner environment. 
So there you have it. Two brand-new services to help you get through the winter months. Improve the efficiency of your dryer and get rid of growing bacteria colonies today. Contact us to get a free quote for your dryer vent cleaning or high dusting service from IMAGINE Services.