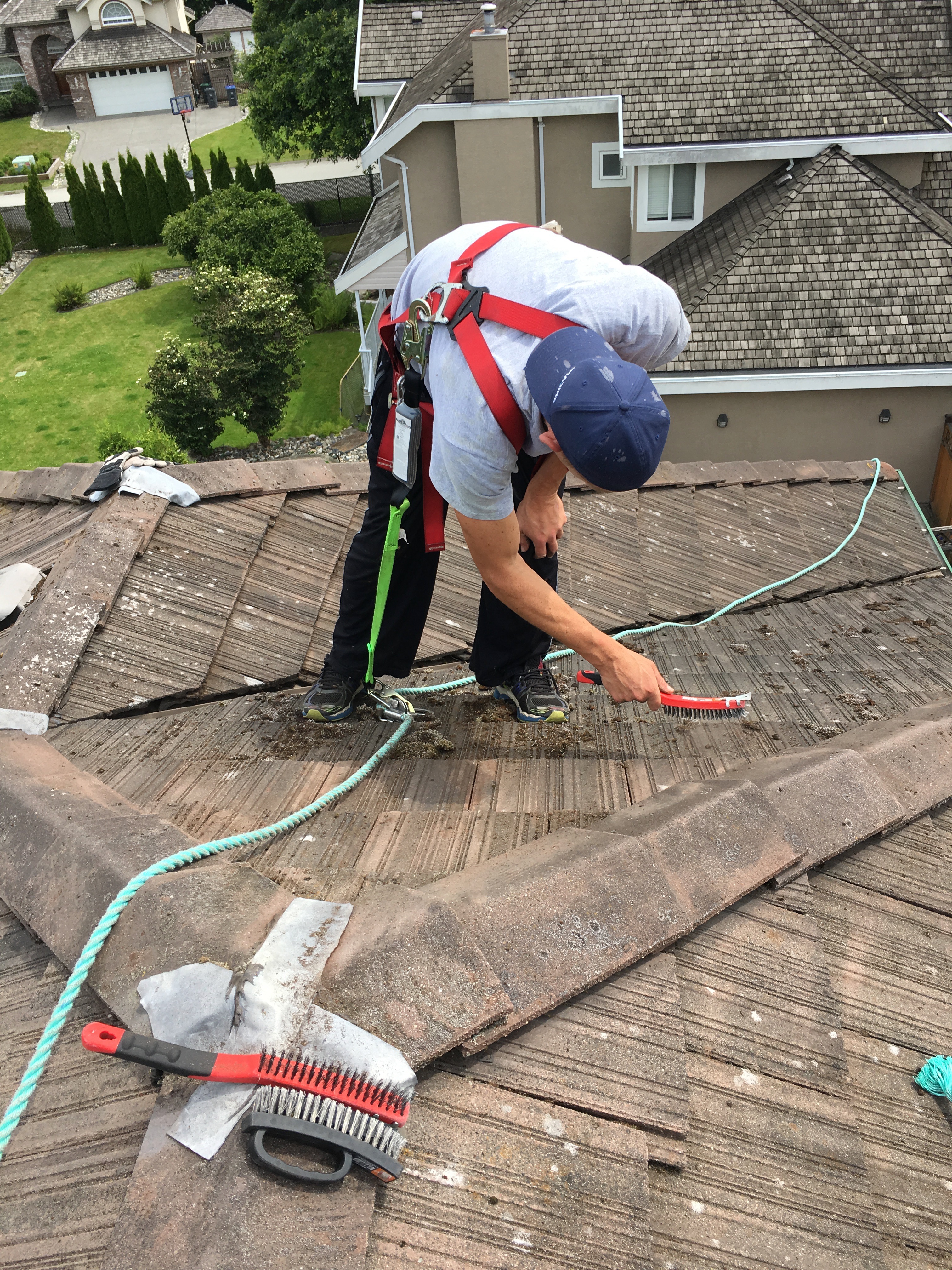 Roof Cleaning In Vancouver
Did you know that the black gunk living on your rooftop is an algae known as gloeocapsa magma?
This strain of algae is an airborne bacteria that has found a home on your fibreglass roofing shingles, which holds moisture and organic material within its limestone filler.
Not only does this black gunk look disgusting, but it will affect the life expectancy of your shingled roof and reflect the sun's rays, causing a heat buildup that will increase your cooling costs throughout the summer.
Left unchecked, your roof will develop moss that will hold rotting water against your roof, contracting with freezing temperatures in the winter. Summer is the perfect time to clean your roof, to prevent against the above while keeping your home fresh and summer-ready.
Professional Roof Cleaning
You should not attempt roof cleaning with a pressure washer if you're not familiar with what you're doing, as you may likely harm the shingles on your roof.
Regarding roofing materials, Cedar is slippery when wet and is often damaged by inexperienced cleaners. Ceramic tiles often break, and Asphalt granules are easily eroded. Our professionals know how to take care of your roof to avoid the above!
You should also be wary of the types of chemicals you use when washing your roof – which ones are corrosive, and which ones are safe to use?
Ultimately, you should hire a professional to ensure that your roof is in tip-top condition, and that you avoid safety hazards. Call IMAGINE at 888-835-0008 to take care of any detailed cleaning needs today, or simply fill out the form below
Ask About Roof Cleaning Cleaning
IMAGINE now roof cleaning. Ask about these services and more today!
Testimonials
Imagine Maintenance did an awesome job of cleaning our awning at Dilly Dally Kids, the toy store we own on Commercial Dr. They were very careful around our delicate signage and the cleaner was punctual and very friendly. I'll definitely be calling them again next year for our annual clean!
Tyler Quantz

We contacted Imagine Maintenance to clean the windows and awnings at our commercial strata in the Guildford area. Brent came out to meet on site the very next day in order to give us a quote. Overall, we were pleased with the quality of the work and the job was completed over 2 days without disruption to any tenants or owners. We will certainly add them to our list of preferred contractors and we will be in touch again the next time we schedule exterior cleaning.
Lyn Probost

Ask About Roof Cleaning Cleaning
IMAGINE now roof cleaning. Ask about these services and more today!