FUNNIEST BABY PHOTO CONTEST RULES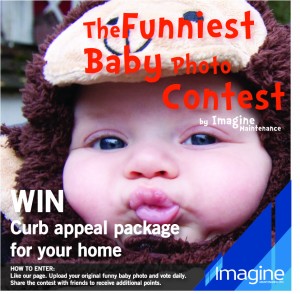 Please visit our facebook page to participate in our current contest running from March 1 2013 to March 31 2013. The winner will be announced on or around 04/01/2013.
DESCRIPTION OF PRIZE
Comprehensive curb appeal package for a detached single family residential home consisting of, but not limited to: exterior window cleaning, gutter cleaning, and algae removal from siding, driveway & patio. Valued at $1500.00

ENTRY PROCEDURE
To enter this Imagine Maintenance Ltd. photo contest, you must submit your photos to the facebook page, under the "Funniest Baby Photo Contest" category.
To be valid, all entries must include a description, your first name, last name, email, City, and Province. Photos can only be submitted online.
VOTING
– 1 vote per day per contestant.
– 3 bonus points awarded for referring friends who submit an entry.
Winner will be selected by the highest total points at the end of the contest period.
The contest is governed by the rules set out below. By entering the contest, you agree to abide by those rules and the decisions of Imagine Maintenance Ltd. You also agree to comply with all applicable laws. Imagine is entitled in its sole discretion, to interpret these contest rules as needed, and its interpretations and decisions are final.
No purchase required. A purchase or payment of any kind will not increase your chances of winning.
ELIGIBILITY
This contest is open residents of the Lower Mainland of British Columbia over the age of 18. Employees of the Imagine Maintenance Ltd. and their immediate family or persons living under the same roof are not eligible to enter this contest.
By submitting your photos, you agree to grant to the Imagine Maintenance Ltd. , free of charge, nonexclusive permission to use your photo in connection with Imagine Maintenance Ltd.
Copyright in your photo will remain with you. You can continue to use the photo in any way you want.
In order that Imagine Maintenance Ltd. can use your photo, you confirm that (a) your photo is your own original work; (b) you own all the rights in the photo, including copyright; (c) you have the right to give Imagine Maintenance Ltd. permission to use your photo for the purposes specified in these rules; (d) the photo is not defamatory and does not infringe any Canadian laws or violate the rights of any third party; (e) you have the consent of anyone who is identifiable in your photo or the consent of their parent / guardian if they are minors; (f) you waive any moral rights that you may have in the photo; (g) you indemnify Imagine Maintenance Ltd. against any claim, demand, action, suit, or other proceedings against Imagine Maintenance Ltd. arising out of the use of the photo or any false or inaccurate statements.
If you do not want to grant Imagine Maintenance Ltd. the permission set out in these rules, please do not submit your photo.
PROCEDURE FOR AWARDING PRIZES
Voting ends on March 31, 2013. On or around April 1, 2013 Imagine will announce the winner by the total number of points earned over the voting period. The selected winner will be contacted by telephone or email during the week following the vote and should acknowledge his/her prize as instructed by Imagine Maintenance Ltd. by no later than three (3) days following imagine's attempt at contacting the selected winner. If the prize is not claimed within this period, a new winner will be selected.
Once a winner is finally selected and confirmed, it will be announced on facebook. Imagine will email the prize voucher to the winner's address.
The prize shall be accepted as is and may not be exchanged for an amount of money, nor sold nor transferred. No substitutions will be allowed. If the prize cannot be awarded as described, Imagine Maintenance Ltd. reserves the right in its sole discretion to substitute a prize or prize component with another of comparable value. Refusal to accept the prize releases the Imagine Maintenance, as well as their respective directors, officers and employees, of all obligations.
GENERAL RULES
If you are selected as a winner, you shall first correctly answer a mathematical skill-testing question before being declared a winner.
If you are selected as a winner, you, or your parents or guardians if you are a minor, agree to have your name and/or picture, including your photograph, and/or voice used for advertising purposes related to this contest, free of charge.
If you are selected as a winner, you, or your parents or guardians if you are a minor, agree that upon accepting the prize you confirm your eligibility of these rules and release Imagine Maintenance Ltd. and its affiliates, as well as their respective directors, officers and employees, from all liability for any damage or loss arising from participation in this contest or from the awarding, acceptance or use of the prize.
Should you make any false statement, you shall be automatically disqualified from the contest.
Imagine Maintenance Ltd. and its affiliates, as well as their respective directors, officers and employees, shall assume no liability resulting from losses, delays, mistaken addresses on mail or e-mail received, typographical errors, technical, computer or telephone malfunctions, loss or theft of computer or telephone data, damage to software or computer equipment, fraudulent calls or any other mistake.
Imagine Maintenance Ltd. and its affiliates, as well as their respective directors, officers and employees, shall assume no liability of any kind, whatsoever, in any cases in which their inability to act results from an event or situation beyond their control, including more particularly a strike, lockout or any other labour dispute in their place of business or the places of business of the organizations or businesses whose services are used to hold this contest.
All personal information, such as your name, address, telephone number, e-mail address and age is collected for the purposes of administering this contest and shall not be sold or given to any third party. By providing this information, you consent to it being used for the stated purposes.
By entering, contestants agree to abide by the contest rules which shall be applied by Imagine Maintenance Ltd. All Imagine Maintenance Ltd's decisions are final.
CAUTION: ANY ATTEMPT BY YOU TO DELIBERATELY DAMAGE THE SITE OR ANY CONTEST SITE OR UNDERMINE THE LEGITIMATE OPERATION OF THE CONTEST IS A VIOLATION OF APPLICABLE CRIMINAL AND CIVIL LAW. SHOULD SUCH AN ATTEMPT BE MADE, THE ORGANIZER AND ADMINISTRATOR RESERVE THE RIGHT TO SEEK DAMAGES FROM YOU TO THE FULLEST EXTENT OF THE LAW AND TO DISQUALIFY YOU FROM THE CONTEST.
LIMITATIONS OF LIABILITY AND RELEASE: BY SUBMITTING AN ENTRY, YOU AGREE THAT THE RELEASED PARTIES WILL HAVE NO LIABILITY WHATSOEVER FOR, AND WILL BE RELEASED AND HELD HARMLESS BY YOU AND YOUR HEIRS, EXECUTORS, REPRESENTATIVES, SUCCESSORS AND ASSIGNS, FOR ANY CLAIMS, LIABILITIES, OR CAUSES OF ACTION OF ANY KIND OR NATURE FOR ANY INJURY, LOSS OR DAMAGES OF ANY KIND, INCLUDING DIRECT, INDIRECT, INCIDENTAL, CONSEQUENTIAL OR PUNITIVE DAMAGES TO PERSONS, INCLUDING, WITHOUT LIMITATION, DISABILITY OR DEATH, AND DAMAGE TO PROPERTY, DUE IN WHOLE OR IN PART, ARISING DIRECTLY OR INDIRECTLY, NOW OR IN THE FUTURE FROM THE DELIVERY, ACCEPTANCE, USE OR MISUSE OF THE PRIZE, ANY AND ALL USE AS PROVIDED HEREIN OF YOUR ENTRY, OR PARTICIPATION IN THIS CONTEST AND/OR ANY RELATED CONTEST. WITHOUT LIMITING THE FOREGOING, EVERYTHING ON THE SITE AND ANY CONTEST SITE IS PROVIDED "AS IS" WITHOUT WARRANTY OF ANY KIND, EITHER EXPRESS OR IMPLIED, INCLUDING, BUT NOT LIMITED TO, THE IMPLIED WARRANTIES OF MERCHANTABILITY, FITNESS FOR A PARTICULAR PURPOSE, AND NON-INFRINGEMENT. SOME JURISDICTIONS MAY NOT ALLOW THE LIMITATIONS OR EXCLUSION OF LIABILITY FOR INCIDENTAL OR CONSEQUENTIAL DAMAGES OR EXCLUSION OF IMPLIED WARRANTIES, IN WHICH CASE SUCH LIMITATION OR EXCLUSION SHALL APPLY ONLY TO THE EXTENT PERMITTED BY THE LAW IN THE RELEVANT JURISDICTION.
BY PARTICIPATING IN THE CONTEST, YOU FURTHER AGREE TO INDEMNIFY AND HOLD HARMLESS THE RELEASED PARTIES FROM ANY DAMAGES, INJURIES, CLAIMS, CAUSES OF ACTIONS OR LOSSES OF ANY KIND (INCLUDING ACTUAL LEGAL FEES AND EXPENSES) ARISING FROM OR RELATED TO: (A) YOUR FAILURE TO COMPLY WITH ANY OF THESE RULES; (B) ANY MISREPRESENTATION YOU MAKE UNDER THESE RULES OR OTHERWISE TO ANY RELEASED PARTY; OR (C) YOUR PARTICIPATION IN THE CONTEST.
These Rules shall be governed by and construed in accordance with the laws of the Province of British Columbia, and the laws of Canada, as applicable herein, without reference to its conflicts of laws principles. Any and all disputes, claims, and causes of action with the Contest Facilitators arising out of or connected with this Contest, other than the determination or validity of claims, shall be resolved individually, and exclusively by arbitration under the British Columbia International Commercial Arbitration Centre, in accordance with its rules, as amended from time to time. Any and all claims, judgments, and awards shall be limited to actual out-of-pocket costs incurred, including costs associated with participating in this Contest, but in no event attorneys' fees. You hereby waive all rights to: (i) claim or be awarded any punitive, direct, indirect, incidental, and consequential damages and any other damages, other than for actual out-of-pocket expenses (but in no event attorneys' fees); and (ii) to have damages multiplied or otherwise increased.
– See more at: https://imagineservices.ca/blog/photo-contest-information#sthash.9VZRj7nA.dpuf