Awnings are a beautiful addition to your home or business. Much like a great set of curtains, awnings complete the look and in the case of a business, often serve as the backdrop to your company logo. Yet, exposure to the elements over time take their toll and they require special procedures to restore and maximize the life out of your investment.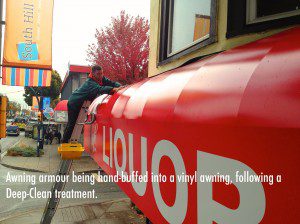 Vinyl awnings
Much like a highly polished dress shoe, your awning will begin to fade over time. This is due to plasticizer migration, the natural "off gassing" or drying of vinyl and plastics. This process can not be stopped but it can be slowed down. The more slowly an awning loses its plasticizers the longer it will last and the better it will look. That is why it is important to replace some of the plasticizers after each cleaning. This can be done by the use of a one step awning & cleaner protectant or through an application of awning armour or Xtra shine, which is recommended to be applied after each clean.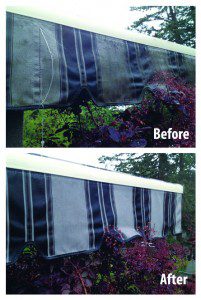 Fabric Awnings
Woven, or fabric awnings do not need plasticizer replacement. What is required for fabric awnings is the use of a waterproofing sealer. We, as well as the fabric manufactures, recommend a non-silicone, air-drying, fluorocarbon based waterproofer. winsol awning guard 690+ is the product of choice for this application, and it is best to waterproof fabric awnings annually.
One size does not fit all
Within these two groups of awnings there are literally thousands of grades, styles and manufacturers. Sometimes awnings have been neglected to the extent that they cannot be completely cleaned. It depends on the age & grade of the fabric, and the environment & cleaning schedule of the fabric. Most of the time, an awning will come completely clean with its second scheduled cleaning.
Following the above steps and a recommended quarterly cleaning schedule will ensure the absolute best result for your awning. Again, we never recommend the use of pressure washers on awnings.
– See more at: https://imagineservices.ca/blog/awning-restoration#sthash.54ikify0.dpuf