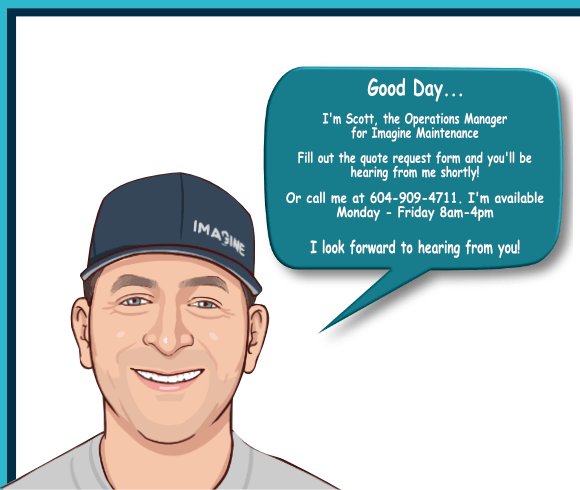 How Can We Help?
Window Washing, Gutter Cleaning, Pressure Washing, Awning Cleaning, Drier Vent Cleaning, Disinfection, Moss Removal, Roof Cleaning, Envelope Scrub and more!
Fill out the information below to get a FREE QUOTE!
What our customers are saying...
I had the IMAGINE team clean my fabric awnings on my home. They returned my email very promptly and set up an appt to give me an estimate for the cost of the work. Initial contact to arrival was within a few days. After that, they provided me with an estimate that I felt was very reasonable and told them to proceed with the work. Again from the time I gave the go ahead to the service appointment, it was all within a week. Very efficient. Two men arrived and carried out the work within 1.5 hours. They were pleasant, knowledgeable and professional. I will have them return when my awnings will be in need of service again. I would recommend this company as my experience with them was 100%. I am sure you will not be disappointed.
D.D. (Home Owner, Burnaby)

IMAGINE provided a comprehensive and thorough cleaning solution for our large commercial building. Their annual service keeps our building looking great.
T.N. (Building & Facility Manager, Best Buy)

We've been using IMAGINE Maintenance to do the annual top to bottom high dusting and window cleaning at our North Vancouver retail shopping center for 5 years. They have a proven track record for understanding our needs, planning ahead, staffing appropriately, and coming to the job prepared. They've proven time and again that they can meet our expectations on time and have provided valuable insight to the condition of our building above what we thought we already knew. Their clean uniforms and pleasant demeanour make them easy to identify and communicate with and their approach to customer service has made it very easy to sort out any discrepancies with minimal fuss. I have no reservations about recommending IMAGINE Maintenance to manage any property cleaning project.
Lonsdale Quay Market